Jo Sheppard and Maren Krumdieck, Group Head of Exhibition Services and Head of Cultural & Commercial Partnerships from the Science Museum Group, take us behind the scenes of international touring in pandemic times, from London to Hong Kong, with the case study of the successfully delivery of their Robots exhibition, which has just opened at the Hong Kong Science Museum.
Teo: The Science Museum Group is a very active creator of international science exhibitions. Since 2014, you have presented exhibitions in more than 40 countries, partnering with a diversity of cultural institutions to bring new experiences to their audiences. How have you been impacted by the pandemics in your touring activities?
Maren: The pandemic has had an impact on everyone's touring activities. For us, luckily less so on any existing partnerships for 2020. We have been able to delay, keep open and reopen exhibitions for all our partners this year. This is greatly due to the flexibility of some of our touring projects we are working on. From exhibitions that come as an IP package which are created by a local institution, to physical exhibitions that have been created in partnership with local organisations and are now successfully toured around China and India by our local partners, and then of course our blockbuster exhibitions such as Robots which have been impacted most. But touring exhibitions is of course not only about delivering an exhibition to your partner and sticking to one's schedules, more importantly for us and many in the industry it is our way to extend our reach and share our content and experiences with as many people as possible. Last year, we had over 1.5 million visitors to our national and international touring exhibitions. This year the number is a tiny fraction of that which is devastating, but not unexpected, with closures in parts and strictly limited numbers elsewhere.
Jo: The recent pandemic has overall made an impact on our touring schedule, as I am sure it has for other museums that tour exhibitions. However, in light of this experience, our team has learned a lot on how to plan effectively not only during a global pandemic but also during turbulent times.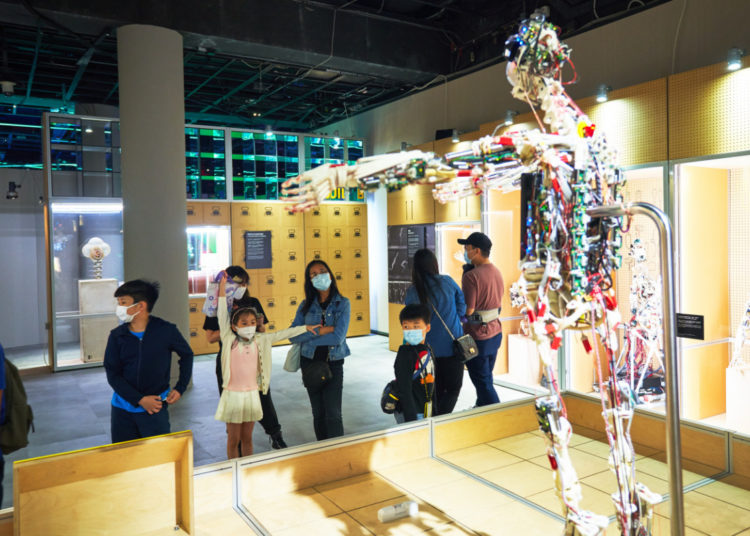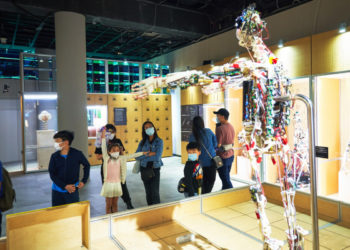 You mention Robots, one of your major touring exhibitions, which has already been presented in five locations. This exhibition was scheduled to travel to Hong Kong for its next presentation last March. Despite the current challenges, the exhibition schedule has been maintained even though delayed. Was it easy to continue your commitment to the exhibition collaboration?
Maren: This was an easy decision for us. We gave it a green light as soon as it was practically possible to make it happen without endangering our own team, the teams we work with onsite or anyone from the local partner institution. To tour exhibitions successfully you need to be flexible and creative. This won't come as a surprise for our colleagues in the industry. We have all faced far from ideal circumstances that required special logistical and operational maneuvers. But it is something the whole industry is very passionate about. That is not different for us at the Science Museum Group.
Jo: The coronavirus pandemic overall has made the planning for our live touring exhibitions, understandably, more complex. Robots was previously at the Tekniska Museet in Sweden and closed just as the pandemic became more widespread throughout Europe, back in March 2020. We were originally due to open the exhibition at Hong Kong Science Museum in May 2020, but because of delays primarily due to international travel restrictions but also as a result of the global impact on the shipping industry and with many of our contractors furloughing staff, we had to postpone the exhibition by 6 months; we have since successfully installed the exhibition and it opened at the Hong Kong Science Museum on 12 November 2020.
How did your team manage to deliver such a large exhibition on the other side of the world, despite all the challenges that have been impacting international projects?
Jo: Both the Science Museum Group and the Hong Kong Science Museum were determined to see our partnership fulfilled for this project despite the obstacles; so in addition to our usual project management processes for delivering a touring exhibition, we also worked with our colleagues at HKSM to identify various potential scenarios and plan for how best to respond to the situation should the scenario arise.
The SMG project team set out clear timelines that were required to successfully deliver this blockbuster exhibition based around the latest government guidelines not only from the UK but also those from the Hong Kong government. We also planned for the installation to be as short as possible whilst still ensuring the safety of the installation team and the exhibition items and objects – this had a double benefit of not only reducing the chance of exposure to the virus for the whole installation team, but also ensured we could meet the scheduled opening date of the exhibition in an ever changing world.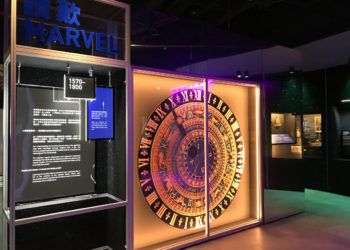 Our partners at Hong Kong Science Museum were also instrumental in ensuring we were able to deliver the project to the new agreed opening date – with a travel ban in place in Hong Kong prohibiting the inbound travel of any non-residents, the project team at HKSM were successful in seeking an exemption to this policy for our team, allowing them entry to the country. While our team were subject to some quarantine procedures and a fair few COVID-19 tests, they were still able to work and complete the installation on time.
Good communication within the SMG project team and also with the Hong Kong Science Museum project team was essential for the exhibition's successful delivery, as well as a willingness from both parties to adapt our plans to fit within an ever-changing situation in these uncertain times.
Would you say that the core ingredients to succeed were the relationship you had with the partner, and the positive mindset that we feel was conveyed throughout the whole project?
Maren: The Hong Kong Science Museum is a long-standing partner and a regular host of our touring exhibitions. This helps immensely when faced with such difficult situations. When we were forced to delay the exhibition shipment, especially the shipment carrying 100 objects in the exhibition, it was tough and disappointing for all of us having to reschedule again and work out yet another scenario. However, it helped immensely that it was clear to both partners that we were both keen to make this happen as soon as it was safely possible.
Jo: The Hong Kong Science Museum always had a very positive look on the situation and were wonderfully confident we would be successful in delivering this exhibition together. We found constant and very open communication to be incredibly important, particularly in circumstances like this where the situation on the ground can be very different to how it is portrayed in the media. Through open communication we were able to assess the risks accurately and plan more efficiently.
How have the challenges raised by the pandemics, and this experience with Robots, impacted your touring strategies and your vision for the future of travelling exhibitions?
Maren: It is without a doubt that the bigger the exhibition, the more difficult it is to remain flexible facing such a rapidly changing situation. But this will not be impacting our strategy and ambition to continue touring large scale exhibitions in the future. In fact, following an upgrade of our own temporary exhibition space at the Science Museum in London, from 2023 onwards we will be touring even bigger exhibitions of roughly 1,000sqm/ 10,000sqft. The first big blockbuster that will be available in this bigger size is on the topic of science fiction which we are very excited about.
Luckily, already before the pandemic, we have built a very flexible portfolio of exhibition products. In addition to the large-scale exhibitions, we do also tour IP packages on our contemporary science content. We call these Blueprint Pack Exhibitions. Much smaller in size and indeed very flexible, this is an exhibition format that is more affordable and the content can be added to by a local institution, spending as much or as little money they require on the look and feel of it. As these exhibitions are delivered digitally, there is no need to factor in transport costs, which makes them also environmentally friendlier.  Each of these exhibitions are unique to a hosting institution, while all have the reassurance of the high standards of a Science Museum Group exhibition at their core. These exhibitions were the most flexible ones during the pandemic as they remained installed without any consequences even when the institutions were closed to the public. I am convinced this level of flexibility within your exhibition portfolio is key moving forward.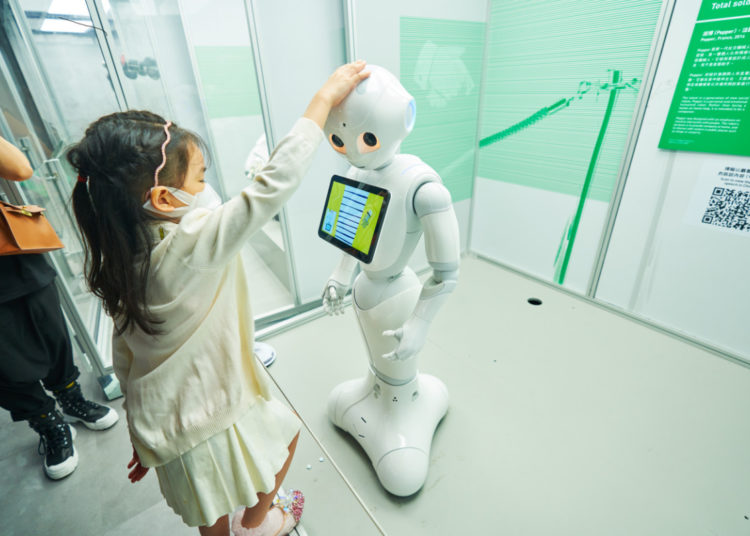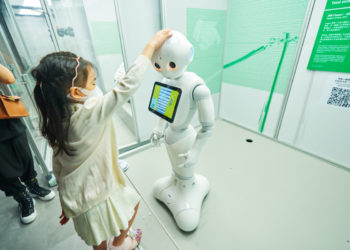 Jo: In regards to sustainability even for our turnkey exhibitions, we reuse the materials of the exhibition as much as possible following the end of the tour. We always compile a list of the exhibition items and try to repurpose these materials across the Group's sites. Additionally, SMG always transports our exhibition setworks by sea as a more environmentally friendly option over air freight, and for the Robots exhibition display at HKSM we were also fortunate enough to receive permission to also transport all of the objects by sea, further reducing the environmental impact of transporting such a large exhibition half way around the world.
In regards to our touring strategy, we now have a team that has experienced installing a touring exhibition during a global pandemic and unprecedented circumstances. This is a very good learning experience for us as a department, and the detailed planning, communication with our partner, creating 'backup' options for the installation team, to name but a few, are all excellent project management principles we can apply in the future.
What is the next step for your Robots exhibition?
Maren: Robots will be shown at the Hong Kong Science Museum until mid-April 2021. All our large-scale exhibitions tour for a limited five-year time period as the exhibitions include a good proportion of objects from external lenders and from our own national collection. We are of course committed to returning these objects at the end of this period.
Having had to push back the exhibition dates at the Hong Kong Science Museum, this has, as a result, impacted our schedule which means we are currently seeking a tour partner to host the last remaining exhibition slot available in summer 2021 for a roughly three-month period.
This will be the last chance to see this exhibition which has brought so much excitement to so many visitors up until now, wondering if humans will ever be replaced by machines. Let the 500-year quest to make machines human continue for at least a little longer.