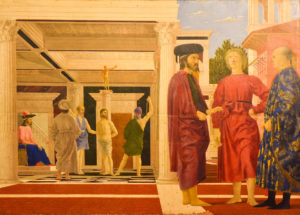 Gathered Together
is seeking funding partners for the development of a new international exhibition on "The Greatest Small Painting in the World", the Flagellation of Christ by Piero della Francesca. Sir Kenneth Clark regarded
the Flagellation
as the greatest small painting in the World. Quite an accolade for a small panel painted in the 1470's with the new adopted medium of oil, measuring only 58.4 cm × 81.5 cm. The meaning of the work is subject of much conjecture and remains an enigma. Art historians have proposed many potential interpretations, which have largely focused on the artist's mathematical skills, particularly perspectival expertise, and the political upheavals of the age. Till now no interpretation has focused attention on the noumenal nature of the work and the acknowledged signs and symbols of the Renaissance lexicon. The exhibition will shed new light on this mysterious work and explore new interpretative discoveries, revealing the genius of the artist. The new travelling exhibition centred on the devotional piece will be proposed to cultural institutions and places of worship from Spring 2021 onwards, 600 years after the artist's birth. The producers, having delivered significant projects for Cathedral Chapters over the years, have already sounded out potential interest with very positive response, subject to the venture attracting the requisite funding. The Funding Call is seeking resources for the development of three elements:
Website with Augmented Reality overlay
Specially commissioned Gathered Together Cantata
Fabrication of exhibition structure (outline layout available)
For more information about the proposed experience and how funders can support the tour and to receive a full project booklet, the producer can be contacted at
mharrisonart@gmail.com
.