Sophie Lécuyer and Marie Pichard, Exhibition Curators at Universcience – Cité des sciences et de l'industrie & Palais de la découverte, share their experience of launching their new exhibition, Jeans, in the lockdown and pandemic context - unveiling fast adaptations, challenged production, and creative involvement.
Universcience has an important temporary exhibition programme, as each year we produce two temporary exhibitions for the Palais de la découverte and four temporary exhibitions for the Cité des sciences et de l'industrie.
This season, the Cité des sciences et de l'industrie opened Opposites, XXHL and Jeans, and Renaissances is planned for June 2021. Universcience also has a policy of renewing its permanent exhibitions. Our Bio-inspired exhibition opened the current exhibition programme in September 2020. Meanwhile, the Palais de la découverte is closing its doors with a planned reopening and new programme in 2024.
Coming back to the Jeans exhibition, the theme of the textile industry is a major topic of our time; it raises many questions about our modes of production, sustainable development, working conditions in factories, and about our modes of consumption. However, to approach the subject head-on did not seem like a good angle for our audience, to make them want to come and see an exhibition on this subject, and to give them "food for thought". We looked for a theme that would be both unifying and attractive to tackle this subject. Jeans proved to be an obvious choice: a piece of clothing worn by everyone, by people of every generation and from all social levels. This piece is an essential part of our wardrobes; it offers a story, and there is a glamourous side to it; it is a symbol of overproduction and overconsumption – in short, a real paradox in the form of an everyday object. The exhibition aims to be both an information resource on jeans and a commitment to inform visitors about the issues that jeans raise, both from a production and consumption point of view.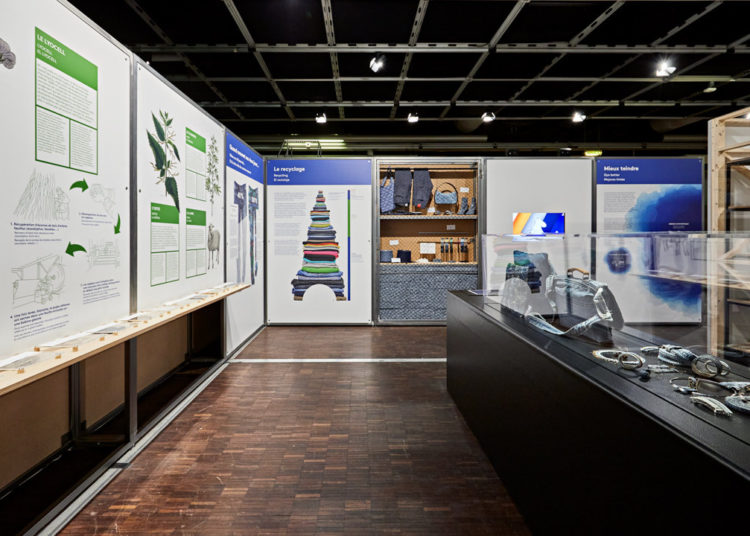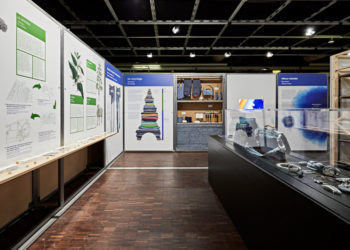 How did the team manage to design and produce this exhibition during lockdown and the temporary closure of the Cité des sciences et de l'industrie, despite all the challenges that may have impacted the development of such a project (work methods, elements production monitoring, etc.)? The interactivity of the exhibitions is one of the strengths of Universcience: your team encourages visitors not only to look, but also to touch. In this context, how did you take into account hygiene requirements while preserving the visitor experience?
At the time of the first lockdown, we were at the beginning of production for the exhibition. Elements such as hands-on exhibits, films, multimedia games and objects had been validated. We were starting to work with the external service providers. After an initial moment of astonishment had passed, we quickly understood that we could not keep our exhibition as we had conceived it: with elements that were designed to be handled by several visitors, touchscreens, textile objects that were here to be touched. We had to adapt quickly in order to be able to offer our visitors a safe environment, an exhibition where there is no room for anxiety. Therefore, with the whole team, we took a rather radical stance: we removed all the touch elements. However, we did not want to lose the notion of interactivity, so we thought about large immersive elements with a new form of interactivity – making this new constraint a source of inspiration! In a very short space of time, of course, with the opening objective remaining unchanged. We thought that an opening on 8 December would be worry-free!
We have therefore adapted this exhibition by imposing a one-way system, by removing touchscreens and push-button controls and replacing them with foot buttons, and replacing hands-on exhibits with multimedia games using a Kinect-type system and foot control.
This rather radical approach has not been understood by all our colleagues: there is a certain feeling that the public must adapt, that visitors can wash their hands, that Covid will be gone by the summer, or that there is no need to rush…
In fact, our approach was really to transform this constraint into a source of creativity; we wanted our visitors to feel good at this exhibition. We were short of time because the production had to move forward, the whole team played the game and we adapted and created new elements.
The second lockdown happened when the exhibition was being built. We organised it by zone and rotated the teams so that there were not too many people on site. We were then convinced that the museum would reopen on 15 December. We maintained as a challenge a virtual opening on 8 December to stay on track. The museum did not open for the Christmas holidays, nor for the New Year; we are still waiting.
The production is finished; it is in the process of being put through its paces, and awaits its audience! The visitor will be the judge.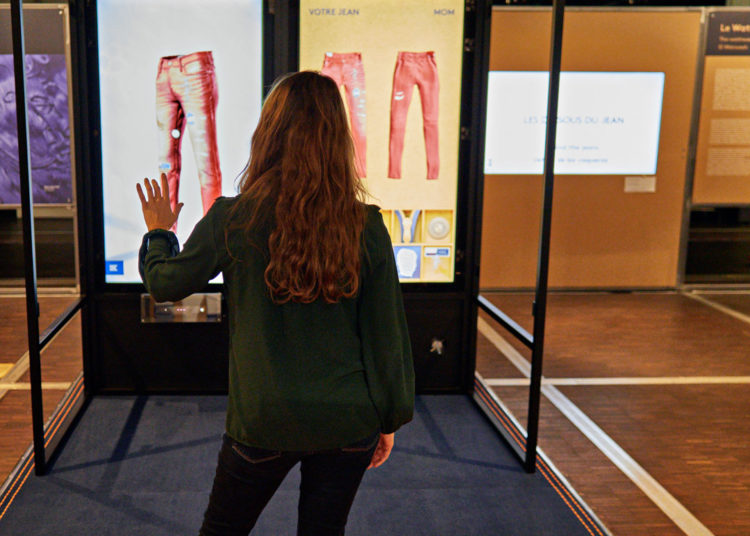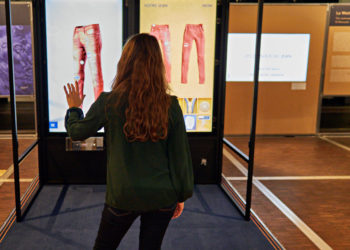 What did you learn from this unusual experience?
The capacity to adapt, the agility and ability in the creative rebound are, in our opinion, what we have learnt and what we will have to implement in the design of future exhibitions. Of course it is complex, because we work with long design and production processes, and we are subject to considerable restrictions associated with public contracting.
However, this experience has brought to light the team's ability to adapt, a willingness to find solutions in the public's interest. All the choices we have made for the exhibition in the face of this crisis may not prove to be the right ones; however, a dynamic and strong will to succeed and bring a project to a successful conclusion, even in a context of particularly significant constraints, has been established.
Universcience is a major player in the touring exhibition market. What is your view on the future of touring exhibitions in Covid times? Do you think, for example, that "all tactile" is dead?
Not at all – on the contrary, visitors will be waiting and asking for exhibitions, experiences and new knowledge. This museum downtime does not mark the end of culture but has rather created a void, and visitors will come back to see the new exhibitions. Our job now is to offer these visitors exhibitions that are adapted to the current hygiene conditions, that are not stressful, and that do not require them to use hand gel at every interaction. We must invent new forms of interactivity, explore digital possibilities (such as eye tracking, camera detection, sensors), and consider the visitors' bodies (elbows, feet, body position). It is a veritable playground and testing ground that we now have to set up!
We must take advantage of these limitations to question even more our activities, our modes of exhibition, what kind of virtual space we can offer our visitors, and to rethink the possible interactions between different museums to offer new concepts. We must no longer think with only a single place in mind. There are avenues of reflection to be built on this, and Universcience has to be involved in this process.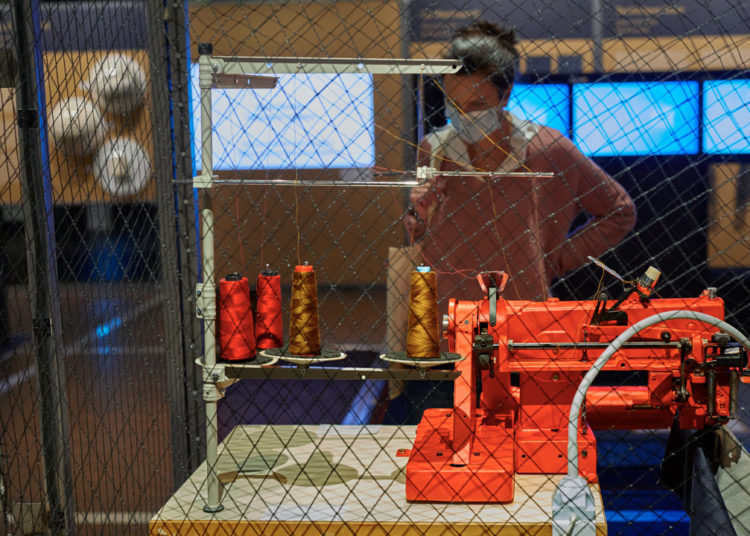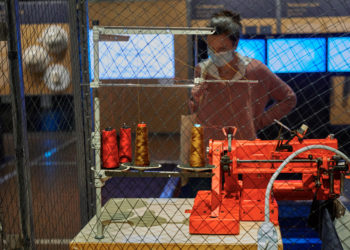 It is also important to reposition the human aspect in these exhibitions, either through the presence of scientific mediators or by offering other types of workshops. In this exhibition, we present a 40-minute sewing workshop, led by a professional dressmaker who offers visitors the opportunity to make upcycled objects from recycled jeans. Within this framework, we can also imagine specific sessions lasting 15 to 20 minutes, on specific themes. For example, we had considered presenting a rolling loom in the presence of a professional so that visitors could understand weaving techniques.
In this period of remoteness, social distancing and self-isolation, it is important to rebuild human relations within the exhibitions.
The exhibition was virtually launched on 8 December 2020, a first for Universcience. What will be the next steps for Jeans?
We indeed had a beautiful virtual opening, viewed by more than 1,000 people on our website and social networks.
How can we show what cannot be visited? The challenge was well taken up by the teams who set up a large virtual tour project with live interviews of special guests filmed on site, with a hand camera live visit.
We have also set up a guided tour of the exhibition where we are in the presence of a guide or a scientific mediator who gives a tour of the exhibition through filmed images of the exhibition and excerpts of elements. We then play a question-and-answer game with our online visitors. The website must also take a new turn, offer more content in addition to the exhibition, and provide links and selections of works. We are currently working on upgrading this site.
Finally, the next steps: to open it to the public and then to develop its presentation with other museums, and to build new concepts between real and virtual.